Speaking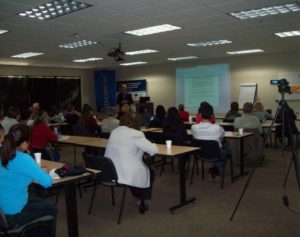 Tracey Dietz is a dynamic and knowledgeable speaker that never fails to deliver. with over 15 years of real estate experience as an appraiser, coupled together with a 'No BS' attitude to getting things done, Tracey is as energetic on stage, as she is empathetic towards realtors and other real estate professionals in general.
Tracey makes sure to keep things informative and interactive, by keeping all of her presentations up-to-date as well as interactive with the attendees.
Training with a Slice of Humor
By the time attendees are done digesting her presentation, they genuinely have something of great value to take away, and more importantly, to take action on – holding themselves accountable to actually making the most out of the investment they made in attending.
Highly aware of the balance needed to keep people informed and involved at the same time, Tracey injects a professional yet light-hearted approach during speaking engagments.
Potential Speaking Topics
Appraisal Basics (What do appraisers do anyhow?)

How do Appraisers Make Adjustments?

FHA Appraisal Guidelines (including most common repair items)

How to Prepare For an Appraiser

Tips In Working With an Appraiser

How to Challenge a Poor Appraisal

What You Can and Can't Say To an Appraiser (misconceptions)

State of The Appraisal Industry (things you need to know)

Are all Appraisers' Created Equal? (how do you qualify an appraiser?)

Local Market Trends (what's going on in the market?)

Or a custom presentation for your needs!
Want Tracey at Your Event? Get in Touch!
If you're interested in booking Tracey for a future event (either in person or online) you can get in touch with her office at 504-382-2558 or via email @ traceydietz@rocketmail.com and set up a time to speak with Tracey directly in regards to your event.
Testimonials
Listen below to just a few of the many testimonials Tracey has received from his speaking engagements:
Get an Free Quote for Your Appraisal
Receive a complimentary price quote for the Appraisal Services that fit your needs.